Who we are
Durham for All is a multiracial group of organizers, activists, and new leaders taking collective action to build a new majority in Durham, North Carolina.
To read our mission and vision, visit the About Us page.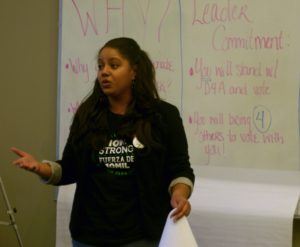 Our staff consists of an organizing team with a Lead Organizer, Campaign Organizer, and Neighborhood Organizer. They organize in working class and people of color communities to bring more people into action and leadership. We also have an Operations Manager to hold together all the moving pieces of the organization and a Digital Organizing Fellow to get our message out!
Our board is a multiracial, cross-class group of Durham organizers and activists with varied movement experiences and skill-sets.
Our members are building a multiracial, cross-class movement to win back our government and create a Durham for all of us. Become a member today!
Durham for All is a grassroots political organization registered and operating as a 501(c)(4) nonprofit.