Who we are
Durham for All is a multiracial group of organizers, activists, and new leaders taking collective active to build a new majority in Durham, North Carolina.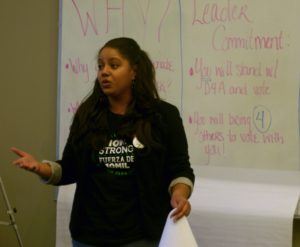 Our organizing is led by our Campaign Organizer and focuses on developing people-of-color (PoC) leaders. Our daily operations and campaigns are managed by The Leadership Committee (TLC), a three-person, majority PoC team with a full-time Operations Manager.
Our strategic leadership is a multiracial, cross-class group of Durham organizers and activists with varied movement experience and skill-sets. The majority of our work comes from community members committing to take collective action together!
We are an independent political organization registered and operating as a 501(c)(4) nonprofit.