We're fighting for a Durham and a North Carolina where every person and every family has access to resources they need to thrive and to feel secure, safe and cared for.
But right now, security, safety, and care feel so out of reach for too many of us. Inflation and the increase in gas prices continue to shrink hard-earned paychecks. While COVID continues to disproportionately impact Black, Latinx, Indigenous, working-class, and disabled people,, too many NC residents are uninsured. Instead of funding mental health care, addiction prevention and treatment services, and reproductive health care, our public resources go into criminalizing our communities for even having those needs.
Unjust state and federal policies manifest in the streets of Durham in heartbreaking ways: Economic insecurity and lack of access to care exacerbate our crisis of gun violence, taking away our Black and Brown youth from their families and loved ones.
This November, we have an opportunity to elect leaders who are committed to addressing these issues and will fight alongside us for safer and more economically secure communities. We can (and therefore, must) elect leaders who will fight to increase the minimum wage, expand access to healthcare, invest in our children and their teachers, and reduce our communities' interactions with the criminal justice systems. 
That's why we are reaching out to 15,000 newly registered voters of all races in Durham: the other swing voters who can transform our government if they step into their voting power.

Though our vision of a North Carolina for everyone who calls it home doesn't become real overnight in one election, each election cycle is a crucial stepping stone to build the political and governing power of the multiracial middle and working classes.

Will you join us in our electoral organizing for the 2022 midterms?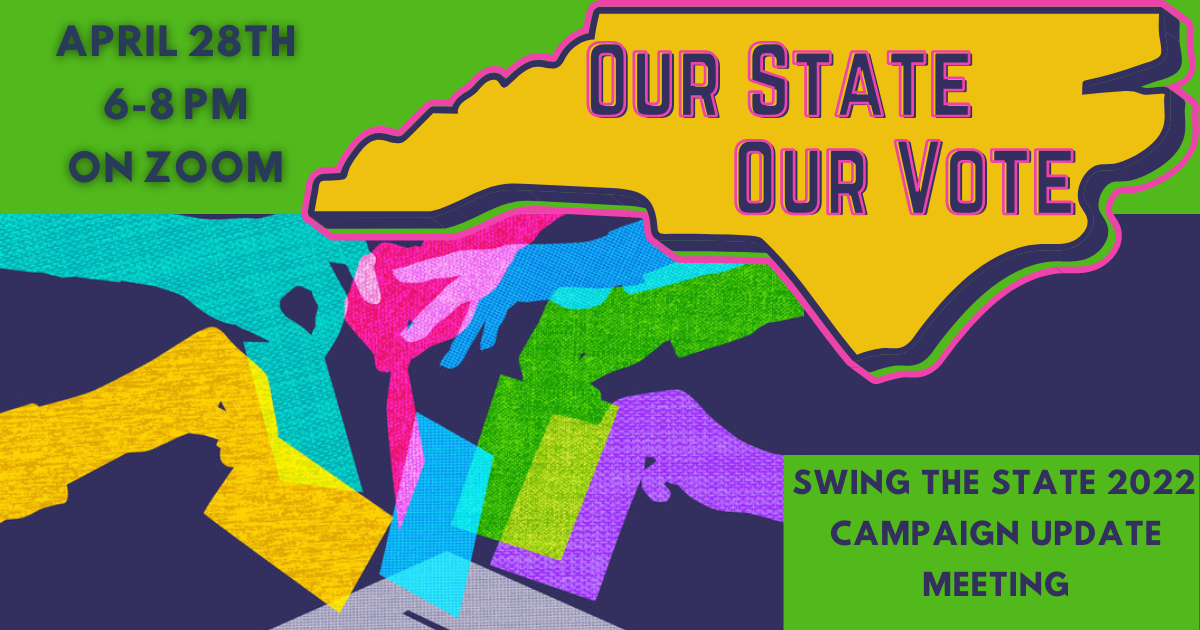 Join us at Our State Our Vote on April 28th, at 6-8 to hear updates about the campaign, celebrate volunteer teams, and learn about ways to plug in!
The finish line to the primary is within sight! We have been contacting thousands of voters about the issues they care about and why they should vote for our endorsed candidates Nida Allam (NC-4 Congressional District), Cheri Beasley (U.S. Senate), and Satana Deberry (Durham District Attorney). They are, individually and collectively, fierce fighters: from investing public funds and programs into Black, Brown, and poor neighborhoods to reducing the impact of the criminal justice system by cultivating care and safety in those same communities.
Join Durham for All's Our State Our Vote to collectively discuss our last push to power our endorsed candidates to victory. Additionally, we will dialogue about how the 2022 midterms aid us in growing our political and governing power. Finally, we will celebrate our industrious volunteer teams that are the engines to our Swing the State 2022 Campaign!
Commune with us. Dialogue with us. Build power with us.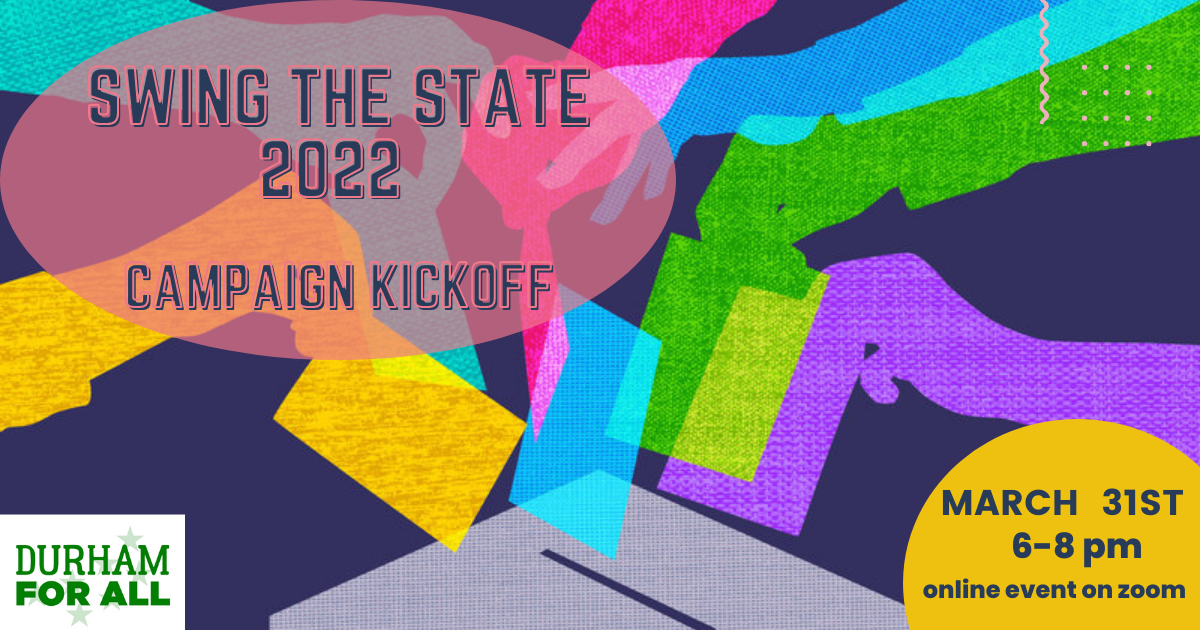 Join us in enacting one of our core values: Democracy For All!
We will be discussing our upcoming Swing The State 2022 campaign: We'll dive into the candidates we've endorsed in collaboration with Carolina Federation and with D4A members' participation  the actions we're going to take to elect them to the office, and most importantly, how you can plug in!
Bring your friends, your family, and your neighbors. D4A needs all of you win big in the upcoming midterm elections, and we're excited to build with you!
Click here to RSVP for Swing the State Campaign Kickoff on Thursday, March 31st, 6-8 PM.
For the 2022 midterms Durham for All, in collaboration with the Carolina Federation, has endorsed Cheri Beasley for U.S. Senate and Nida Allam for US Congressional District 4. Additionally, Durham for All voted to re-endorse Satana Deberry for District Attorney.
Individually and collectively we believe they will carry on the work and vision that Durham for All and its partner organizations have for people in North Carolina to have more equity, inclusivity, and justice in all facets of their lives.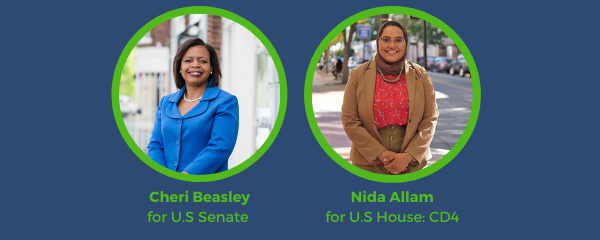 Cheri Beasley and Nida Allam share a commitment to fighting for the interests of all North Carolinians. Especially people of color and working people who have been systematically left out and left behind. If they win, Nida would be the first Muslim elected from a Southern state and Cheri would be North Carolina's first Black Senator.
We endorse their platforms because:
Both candidates are committed to raising the minimum wage to at least $15 per hour and providing more protections and rights for employees.
They will work to further the fight for a person's reproductive freedom by supporting the Women's Health Protection Act, which would codify Roe v. Wade into federal law.
North Carolina has over 13% of its population uninsured (one of the highest in the country). Cheri and Nida will work hard to expand access to quality, affordable healthcare to the millions in this country who are uninsured or underinsured.
They are committed to investing in children and their futures. They would push for higher teacher pay and more funding for schools in the poorest neighborhoods as a way to invest in North Carolina's public schools which are the heart of our communities.
They both understand the existential threats of the climate crisis and threats to this country's democracy and will work towards solutions that can begin to save our planet and our democracy.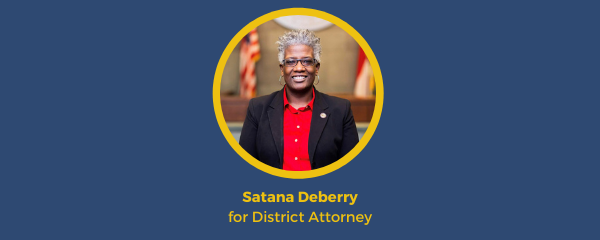 District Attorney Satana Deberry also shares our vision of equity, inclusion, and justice for all. In 2018, Durham for All endorsed her and joined a coalition of organizations to help power her to victory.
Here's a few of initiatives DA Satana Deberry has taken towards ending mass incarceration, advancing justice, and advancing equity in the past four years:
In 2019, her office implemented a pretrial release policy that discourages money bail and pretrial detention in non-violent cases.
District Attorney Deberry has led the effort to dismiss, or have alternatives to incarceration for, low-level charges in cases involving substance use, poverty, homelessness, or involving individuals with little to no prior criminal history.
The DA's office has worked with the Criminal Justice Resource Center (CJRC) to utilize diversion tools and programs (e.g., restorative justice, cognitive behavioral therapy, and addiction treatment) that can address root causes of certain offenses. There are a total of 27 people with lower-level felony cases that are going or have gone through this diversion program.
Since 2020 the District Attorney's office has certified over 500 temporary visas (sometimes up to 4 years) that provide benefits and protections for immigrants.
In the midst of Durham County's rise in gun violence, her office is working hard to stem the impacts on our communities.
If re-elected, DA Deberry will continue to change the conditions that disproportionately increase Black and Brown communities' interactions with the criminal justice system. She will reallocate resources from punitive tools and processes to preventative measures and care-focused solutions that address the root causes of violence.
---
Through Durham for All's Swing the State 2022 we will be working with partner organizations to go all out for the bold and exciting candidates we have endorsed or re-endorsed. In the next few months, we  will be talking with thousands of Durhamites about the issues they care most about and the importance of voting for candidates like the ones we are supporting.
Join us for a phonebank shift as we talk to Durham voters about these bold candidates. 
Federal-level Endorsements:
U.S. House & U.S. Senate
For federal- and state-level races, Durham For All joins the endorsement process of our statewide partner, the Carolina Federation (CF). Durham For All is a local affiliate of CF, a statewide grassroots political organization that brings local people together across race and the rural-urban divide to build political and electoral power in our communities across North Carolina.
In December of 2021, CF held an online endorsement process for all active members of CF chapters and affiliate organizations, like D4A. Through that process, D4A and CF members voted to endorse Nida Allam in U.S. House for NC's 4th Congressional District, and Cheri Beasley for U.S. Senate in North Carolina.
---
Local-level Endorsements:
Durham District Attorney
This year marks that first time that somebody D4A endorsed in the past is running for re-election. In 2018, D4A endorsed Satana Deberry for Durham District Attorney, and she won! D4A implemented a re-endorsement process, in which D4A staff made a recommendation to D4A members to re-endorse DA Deberry, and active members voted via e-ballot.
The Process
We repeated the voting set-up from last year, in which we had three voting bodies: 1) general members, 2) member leaders, and 3) staff and board.  Votes were tallied from each of the three bodies to determine Durham For All's decision to re-endorse or not.
Our weighted voting model gives each voting body ⅓ of the total vote in any local race we make an endorsement. Each of these bodies determines their candidate in a race through a majority vote, and each body's candidate will signify 1 vote for that candidate. Durham For All will endorse the candidate who receives 2 out of 3 votes from the voting bodies. If a 3-way tie occurs, rank-choice voting within each body will attempt to break the tie or no endorsement will be made.
Why Weighted Votes for Local Elections?
As our membership-based organization grows, we want all members to be able to make decisions in the organization so that they can experience greater ownership in the work, beyond paying member dues and volunteering. The weighted voting model makes this possible while also giving those who have higher levels of responsibility and commitment to the organization—such as member leaders, staff, and board—greater voting power in the endorsement process.
Take Action!
Each election cycle is a crucial opportunity to realize our vision of a North Carolina for all. Join us in our electoral organizing in 2022.
Sign up to phone bank!