Sign Up to Become a Member
Why do we require demographic information in our membership form? Collecting this info helps our organization better understand who our members are and where our membership needs to grow. It's a way for us to live into our mission of building a multiracial, cross-class political movement let by people of color and working people!
Durham For All is a 501(c)(4) organization and membership dues are not tax deductible. If you have any questions about membership, message us on our Contact page or send an email to [email protected].
About Membership
Our members are bringing together a multiracial, cross-class movement into a political home led by people of color and working people.  We vote together, we take action together, we build our leadership together, and we fund our movement together.
Join us! Our three criteria for membership are:
Pay membership dues.
Agree to our vision.
Live, work, or study in Durham County.
Sign up above to become a member by paying dues and agreeing to our vision! If you don't need to pay dues because you already contributed financially via sustainership or a one-time donation this year, complete the member confirmation form. If you want to contribute financially without becoming a member, you can make a donation at our Donate page.
Membership Dues
We ask our members to pay dues by making a personally significant financial contribution each calendar year. Depending on our income, wealth, and class status, this will look different for each of us. Some members will sustain at $3/month and others at $60/year. Some may sustain at $10/month and others at $50/month. And some members may sustain monthly and also contribute $5,000, $10,000 or more each year.
Why dues? Our goal is to grow into a fully member-funded organization! A multiracial, cross-class organization with 10,000 members will get us to the political power we need to both create a Durham for all and defeat the far right here and beyond. Your dues help make that happen! The majority of our expenses are for grassroots organizing and leadership development within working-class and people-of-color communities. Sign up above!
Our 10K Strong Vision
Our movement is guided by our deepest beliefs and a vision of the future we are building together.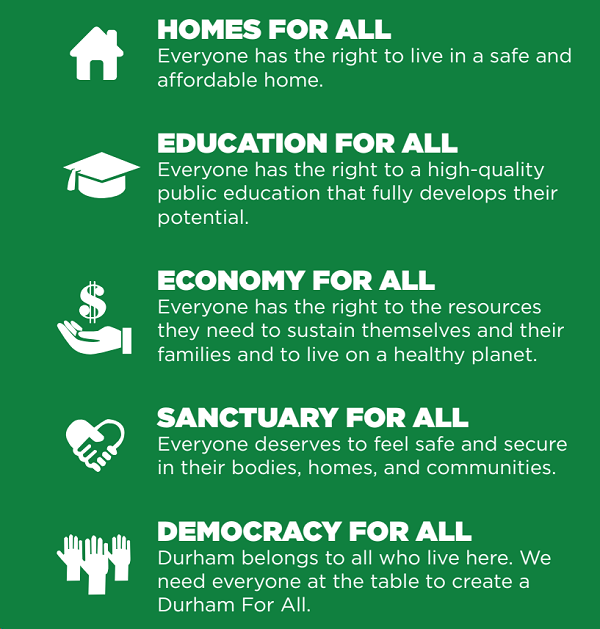 You can read more about our vision on our About Us page.